Giving Matters
Your donation to the Center for Refugees and Immigrants of Tennessee will help sustain our efforts to facilitate refugee and immigrant integration into Nashville and American society. Your support will directly benefit our clients as they seek assistance learning English, preparing for citizenship, acquiring employment, gaining access to affordable health care and other greatly needed social services, navigating the immigration system, and improving academically.
Please join our community of supporters and donate now through Giving Matters: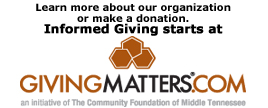 If you wish to send your tax-deductible donation by mail, please include your name, phone number, and address and send to:
Center for Refugees & Immigrants of Tennessee
295 Plus Park Boulevard
Suite 102
Nashville, TN 37217
Your employer often matches your tax-deductible donations. Please check with your Human Resources department to find out if your employer has a matching funds program.